Our History
Since 2013, Lixin Beauty Wellness has been opened for business in Singapore and Lixin Beauty Wellness is a licensed traditional Chinese Tuina spa to provide Chinese Tuina wellness therapy for both men and women. The spa also provides other services such as ear wax removal, lymphatic detox massage and shoulder massage. Our management is experienced to operate a clean and authentic Chinese traditional massage and we are sure that our customers will keep coming back to us for our therapeutic sessions.
Even though the spa is located in a major tourist attraction at Chinatown Singapore, the charges for our services are reasonable and the ambiance is quiet and away from the noise from the street as the shop is located on the second floor of a shop house in Chinatown Singapore.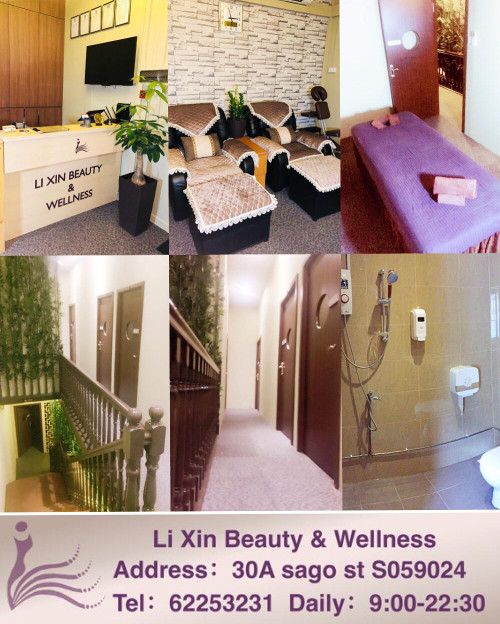 Our Facilty
The spa is well maintained and highest level of hygiene is practiced by our staffs. We ensure that the rooms or the massage chairs are cleaned and linen are changed after each customer had completed the session with our therapists.
Operating Hours
Open Daily - 09:00 to 10:30pm
Address
30A Sago Street, Singapore (059024)
2nd Floor of Shop House facing Buddha Tooth Relic Temple
Nearest Car Park is at Chinatown Complex Hawker Centre
Tel: +65 62253231
Disclaimer
While there are many benefits of using our services, the therapies are traditional practices and the effects may be different from customers to customers.
If you have any existing medical conditions, please consult a medical doctor before you engage in our services as we are not responsible for any side effects from the existing medical conditions.
Do tell which area of your body is not able to be subjected to any strong or hard external force such as pushing, kneading, pressing, rolling or even stepping on the body during the massage session.
By using or accessing our website you are consenting to our Privacy and Personal data protection policies according to the PDPA Singapore. Please click on the button to read the details.